Best Hotels In Chicago With A View To Book In 2022
Chicago is located on the shoreline of Lake Michigan. It is the largest city in Illinois and the coolest place in the United States. Here, you can enjoy many water sports activities on the beaches altogether with the skyline, vibrant city life, live music, delicious cuisines, many museums, beaches, etc. There are many things to do and tons of cuisines to try in this beautiful city.
If you have decided to visit this lovely city, you must consider where to stay. People who have visited Chicago before must have ideas about the same. But, if you are visiting for the first time may find it challenging to find the best hotel. So, we are here to help you find the best hotel in a vast and diverse place like Chicago.
There are many hotels in this place, and you can find all types of hotels according to your budget, style, and facility. The view of the hotel is something most people consider before booking any hotel. That is why, in this article, we have listed a few best hotels in Chicago with a view. All these hotels are 5-star or 4-star and highly suitable. Let's check out the best options to stay in Chicago:
Freehand Chicago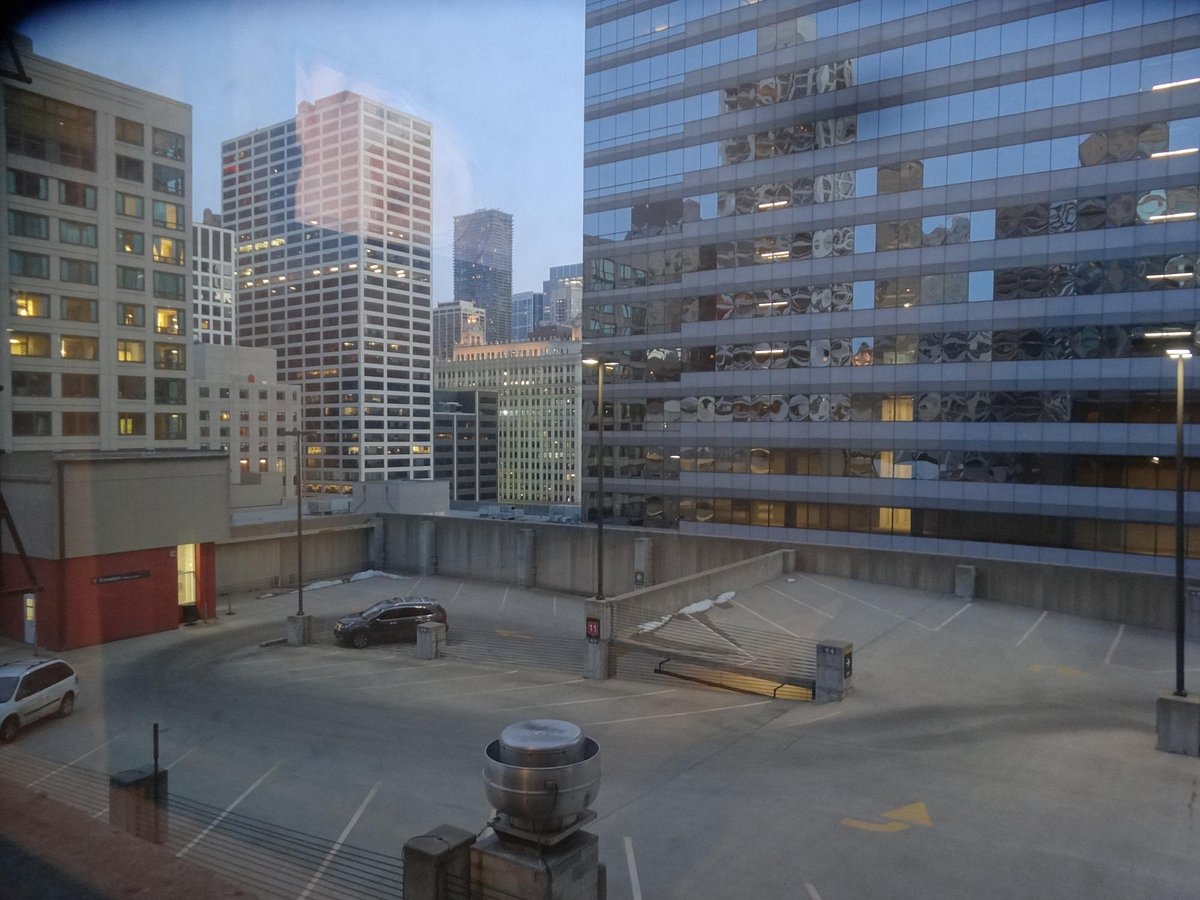 This hotel is located at North Ave in Chicago, USA. It is designed in a vintage style to give the hotel a unique look. This art-deco hotel includes many suitable facilities, such as WiFi access, a fitness center, and concierge services. They have an in-house restaurant that offers American cuisine, a poolside bar for refreshing drinks, coffee shops, and cafes. The hotel provides cooked-to-order breakfast, swimming pools, laundry facilities, and conference space.
Moreover, the hotel staff speaks multiple languages to interact with guests all over the world. The rooms share a home-like feel featuring air-conditioning, WiFi, minibars, and flat-screen TVs. Each room has a personal bathroom with showers, designer toiletries, hair dryers, etc. The price of the hotel will cost you around $303.82 per night.
Park Hyatt Chicago
The Park Hyatt hotel is situated on North Michigan Avenue in Chicago's Gold Coast neighborhood. It is also considered the best view hotel in Chicago. The hotel offers modern-style large big rooms and other spaces. Its room features a 42" flat-screen TV, minibars, sound systems, and large beds. Furthermore, each room has spa bathrooms with large tubes, plush robes, and walk-in showers.
The hotel is the best choice if you love the view of the skyline. Guests can also enjoy a steam room, indoor pool, fitness center, and Nomi spa at the hotel. Furthermore, additional amenities include an in-house spa, open-kitchen restaurant, NoMI lounge, rooftop brunch at NoMI garden, seasonal hot chocolate bar, free WiFi, gym, parking, etc. The hotel will cost you approx $773.06 per night.
The Peninsula Chicago
The Peninsula Chicago hotel is a 5-star lavish hotel located at East Superior Street in Chicago. The hotel has 339 luxury rooms featuring many facilities. Furthermore, the hotel features technology-enhanced rooms with digital tablets to control lights, TV, iPod docks, phones, etc. Other amenities of the hotel include an indoor pool with a sundeck, fitness center, spa, business center, meeting, and banquet space as well.
If you are into food or we should say if you cherish different cuisines, this hotel is the ideal stay for you. A variety of cuisines are served in the hotel's in-house restaurant every day. Also, you can get all-dining, Sunday brunch, and after tea in the lobby. The hotels even welcome pets inside the hotel and offer a large parking area, gym, and many more. The approx staying cost of the hotel is $900.00 per night.
Read Also:The Cheap & Best Value Hotel in New York City (Top 5 Hotels)
Trump International Hotel & Tower Chicago
This hotel is designed with a modern-style and classy interior located at Wabash Avenue Chicago, one of the most attractive places in Chicago. This grand hotel has a fully-equipped spa, and each room features floor-to-ceiling windows, a full kitchen, and limestone baths. You can also relish a superb view of the city skyline and the Michigan River from the hotel.
The hotel even provides vital facilities such as indoor valet parking, a business center, and laundry. Furthermore, its restaurants serve the best American cuisines, cocktails, and dining areas. There is also a facility to enjoy wine on the hotel's terrace. The approx cost to stay at the hotel is $528.00 per night.
The Langham Chicago
The Langham is one of the most lavish hotels on North Wabash Avenue in Chicago. It is just a half-an-hour journey away by car from the Midway International airport and O'Hare International airport. Furthermore, the hotel comprises 316 rooms and suites with large spaces, beautifully designed interiors, and all crucial items. All rooms have an LCD TV, ceiling fan, air-conditioning, coffee/tea maker, minibar, slippers, and hair dryers.
Each room is soundproof and has a non-smoking area. The other room facilities include free Internet, indoor pool, hot tub, spa, fitness center, meeting rooms, 24-hour front desk, and 24-hour business center. The hotel has three on-site restaurants, parlors, shops, and theaters as well. Moreover, the hotel will cost you just around $787.50 per night.
Kimpton Hotel Monaco Chicago
The hotel is situated on Wabash Avenue, Chicago, one block away from the Riverwalk, and is known for its elegant design and deco. It is a 4-star hotel close to bars, theaters, and attractions in the city. The hotel offers guest valet parking, in-room spa service, a fitness center, business centers, and many more.
Here, you can enjoy the facility to hire free bikes and welcome pets to the hotel. The hotel rooms are equipped with animal print robes, Frette linens, yoga mats, WiFi, minibars, and a TV. Guests can enjoy breakfast, lunch, dinner, and drinks in the hotel's on-site restaurant. They even host Evening Wine Hour to enjoy a variety of drinks. The hotel's price will cost you around $459.00 per night.
Conclusion
Chicago has an array of unique hotels, and above are a few hand-picked hotels that you can consider staying in. These are the best hotels in Chicago with a view and convenient facilities. If you are heading to Chicago, the above are the must-stay hotels where you can enjoy many things, such as music, spa, drinks, and many more.
You have got some idea about the best hotels. I am sure you must be heading forward to book your tickets to Chicago. But, don't you love getting discounts on tickets? Amerigo Voyage is an online travel booking site to book flight and hotel tickets. You can even book car and travel insurance. They provide flexible booking with the best deals and discounts. You can also contact the hotel's customer support team if you find any problem while booking.
Frequently Asked Questions
What are some of the best hotels on Wabash Avenue?
Wabash Avenue is one of the attractive locations in Chicago. If you want to stay in this area, some of the best hotels are- Trump International Hotel & Tower, The Langham, and Kimpton Hotel Monaco Chicago. These hotels even provide many crucial and additional facilities. They even follow all safety and hygiene processes.
Can you get hotels with an in-room spa facility in Chicago?
Many hotels in Chicago offer spa facilities. Some provide in-house spa facilities, whereas some offer them outside the hotel. To enjoy an in-room spa, you must choose the Kimpton Hotel in Monaco, Chicago. They even offer many other facilities like fitness centers, on-site restaurants, etc.
Which are the most expensive hotels in Chicago?
You can find many lavish hotels in Chicago, including The Ritz Carlton, The Peninsula, Waldorf Astoria, and the Langham. Of these hotels, the most luxurious one is Waldorf Astoria which costs you $2138.00 USD (Avg 1069.00 per night).
What are the essential facilities Freehand hotel offers?
If you are planning to stay in a Freehand hotel, you must know some of the essential facilities it offers. The hotel provides free access to WiFi, large beds, sofas, smart TVs, minibars, laundry, a swimming pool, air-conditioning, private bathrooms with showers, hair dryers, and many more.
What is the staying cost of the Peninsula hotel?
The Peninsula is a 5-star hotel that costs you around USD 1800.00 (Avg $900.00 per night). The hotel is counted as one of the lavish hotels and offers many high-standard facilities. All rooms are technology-enhanced and have digital tablets to control lights and temperature. The hotel even has a spa, fitness center, in-house restaurants, etc.
To know more about the best travel places visit us today.